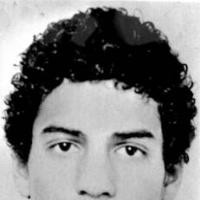 Ashley Kriel was born on the 17 October 1966 to Ivy and Melvin Kriel. He has two sisters, Michel Assure and Melaney Adams. He grew up in Bonteheuwel, Cape Town. Bonteheuwel is a township on the Cape Flats and was predominantly working class. In the context of the Group Areas Act, it was a 'coloured' designated area. This meant that many of the families that lived in this area had been forcibly removed from District Six or other areas around Cape Town that had been designated 'white' areas under the Act.
Kriel went to school in Bonteheuwel, starting at Central Park Primary School. He started high school in 1981 at Bonteheuwel High. Despite a year at Athlone High School in 1982, he would return to Bonteheuwel High and finish his education there in 1985. Kriel was a strong student, excelling in science and mathematics specifically.[1] This is evidenced by his attendance of the Cape Argus Winter School for Science in 1984. At this time, Kriel was described as being a "voracious reader […] and an engaging conversationalist."[2] Kriel was also religious, evidenced by his attendance of the Moravian Church Youth camp in 1984. This did not detract from his political involvement, however.
Kriel was a member of various student groups while in school, where he developed his public speaking and organisational skills. He was a member of the Bonteheuwel Inter-schools Congress (BISCO) "[…] which was formed to coordinate the activities of the student representative councils (SRCs) of Arcadia High, Bonteheuwel High and Modderdam High Schools ,and Bonteheuwel Youth Movement, BYM, (an affiliate of the Cape Youth Congress, CAYCO)."[3] Kriel was described by his family and friends as a natural born leader and very politically aware. As a result of these leadership skills, Kriel soon became an influential leader of the youth in Bonteheuwel, despite still being a teenager. Along with close friends Henriette Abrahams, Kriel organised the youth of Bonteheuwel into school boycotts, protests and other actions in line with the ANC's call to make the country 'ungovernable' with plans that the inter-school SRC named 'Days of Action'.